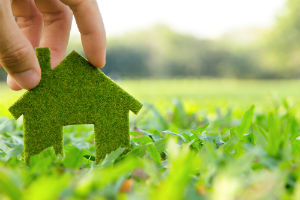 With Earth Day less than two weeks away, there is more you can do than simply cross the day off on the calendar. Unfortunately, many adults treat this special day as nothing more than a chance for elementary school students to learn about recycling.
In reality, S&A home buyers help conserve the Earth simply by purchasing an S&A home.  The leaf in our logo is about a whole lot more than a cool design. It represents our commitment to overall conservation and energy efficiency as a builder.
Most people buying an S&A home may be surprised to know that we have been an ENERGY STAR™ partner since the early 90s, long before the energy efficient bandwagon showed up for other home builders. By choosing to work with third party providers and agreeing to specific energy inspections throughout the building process, we have been building a tighter home for more than 20 years. Combine that energy efficiency with locally obtained resources and recycled materials, and you quickly realize that there is a lot more to that beautiful exterior than you may think.
For those living throughout Pennsylvania, there are several events dedicated to Earth Day, and we hope everyone will have an opportunity to acknowledge the day with their families.
In Pittsburgh, visit http://pittsburghpa.gov/citiparks/earth-day for more information.
In Central PA, visit http://shaverscreek.org/event/earth-day-work-day/ to learn how you can dedicate your time and efforts to a special cause.
And for those of you in the Harrisburg/York area that are looking to further beautify the area, click here: http://centralpaconservancy.org/node/243.
For more information about S&A Homes' e-home and commitment to efficiency, click here.