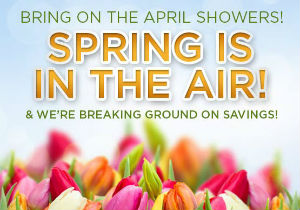 Although the winter has been a long one, we are hopeful at S&A Homes that the upcoming holiday and the welcome of April will bring warmer temperatures and more of a spring-like feel to the area.
For those looking to kick spring time into high gear, S&A is certainly heating things up with their Spring Savings Event that is underway.
With only one weekend remaining to save 50 percent on cabinet upgrades and a variety of community based incentives running, there has been no better time to visit us in person. You can visit one of our model homes, secure a home site or even come in to get an estimate to build a brand new home on your own piece of ground.
Whatever you are looking for in a new home, we are here to make sure your new home is the best home you have ever had! For more information, please visit S&A Homes on the web.