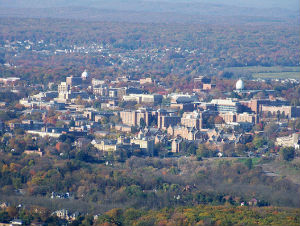 Those living in Happy Valley certainly weren't surprised a couple of weeks ago when State College was once again placed on CQ Press' Top Ten Safest Cities list for 2013. But for many who are relocating to the area, getting a feel for the town may be the number one priority.
The list contains cities from all over the nation including places like Logan, Idaho and Appleton, Wisconsin – even Edison, New Jersey.  But a low crime rate is just the tip of the iceberg in State College, PA.  This unique city is really more of a small town, yet it contains world-class facilities because of the university.

From one of the nation's largest football stadiums to first-rate concerts and speakers year-round, there is no shortage of things to do. The scenic state parks nearby contain hundreds of miles of hiking trails, fishing creeks and places to camp. Those seeking more urban excitement can arrive at some of the nation's largest cities like Philadelphia and Washington D.C. in just three to four hours.
For those thinking of moving to the State College, PA area, please visit S&A Homes on the web to find out more.  We build in more than 20 communities or can build on your lot in Centre County. Search from quick delivery homes, or find out how you can customize your own.