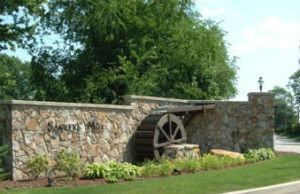 With so many new home neighborhoods out there, and such little time, how do you know the difference between a typical "cluster home" development and a true gem, a community that fosters close-knit ties and a genuine neighborhood feel? All too often, new communities tout themselves as something uniquely different, and prospective customers are greeted with disappointment at the sight of nothing but piles of dirt and homes under construction.
That rude reality check, we can assure you, is not the case with Sarver's Mill. Sarver's Mill, located 35 minutes from Pittsburgh is a true exception and in a good way. The neighborhood boasts every imaginable amenity, a true sense of community and even a historic tale to boot. The ground, initially settled upon more than 200 years ago after the Indian War in 1792, is surrounded by the Little Buffalo Creek and canopies of tall, established trees.
Today, it has morphed into a community that features a heated community pool, playground, walking trails, open space, sidewalks and much more. And S&A Homes is now pleased to announce its grand opening of Sarver's Mill. Featuring ranch and two-story homes from the $230,000s, just 15 minutes from Cranberry Township, PA, it is easy to predict that home sites won't be available long in this super sought-after location. For more information on Sarver's Mill, visit S&A Homes on the web.