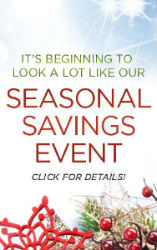 Holiday shoppers always know they can get great deals on a sweater or a TV just before the holidays, but they tend to forget that those same savings apply to new homes too! For a limited time, homebuyers in Pennsylvania and West Virginia can still take advantage of our Holiday Savings Event.
Almost every S&A community is passing on limited time savings like half off options or straight up discounts. In fact, buyers can save up to $25,000. That would certainly pay for a lot of sweaters and TVs! Also, many of our quick delivery homes are at their lowest prices of the year!
For more information, please click on a community and click the arrow advertising savings. Hurry – offers end on December 31st, so less than two weeks remain to take advantage of the savings! For more information, visit S&A Homes on the web.