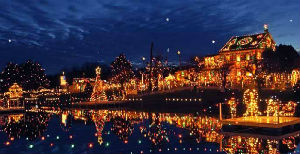 Aaah – take a deep breath because the holiday season is officially in full swing and all of the madness that goes with it. For those of you who can manage to clear a few hours off of your plate, here is a list of our top five holiday attractions for Pennsylvania new home owners.
#5 – Bellefonte Victorian Christmas – Bellefonte is a beautiful Victorian town steeped in history, but it truly comes to life next weekend. December 7-9th, this quaint old-fashioned town will be decked out with all of the traditional holiday trimmings, right down to authentic Victorian period costumes, carolers, gingerbread house tours and High Tea at Reynolds Mansion. Top that off with a horse drawn carriage ride, and we can't think of a better (or more romantic way) to ring in the season.
#4 – Hershey Park – Ok, so maybe the big twisters are shut down for business this time of year, but a chance to tour the "sweetest place on earth" during the holiday season comes with some big pros, like free chocolate, millions (yes, we did say millions) of little lights and holiday themed characters for the kiddos. Don't live near Hershey? Lakemont Park and Kennywood are close contenders and worthy of a few hours of your time.
#3 – The Night Before Christmas Train at Strasburg Railroad – Children get to enjoy a traditional reading of "The Night Before Christmas" over cookies and milk in their pajamas on this special train ride offered on Friday, December 7th and Friday, December 14th. Tickets book quickly for this very popular event though!
#2 – Koziar's Christmas Village – Just because you may not have heard of this amazing find off the beaten path, doesn't mean it isn't worth visiting. Koziar's (near Reading, PA) has been around since the 1940's and is truly a spectacle. What started as a barn all lit up has turned into an entire holiday town. We can think of nothing that could get you in the holiday spirit as much as Koziar's. The lights and attractions will leave little ones and adults alike begging to come back next year.
#1 – First Night in Pittsburgh – Those living in the Pittsburgh area truly get to enjoy it all. Even though you still need to wait 31 more days until New Year's Eve, it's well worth the anticipation for residents. This family friendly venue features everything from ice skating to giant puppets to magic shows. There are even two sets of fireworks – one round at 6:00 p.m. for the kiddos and another at midnight for the grown-ups.
S&A Homes builds new homes in more than 50 communities throughout Pennsylvania. For more information, please click here.