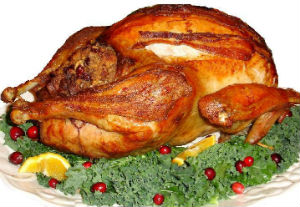 Halloween may seem like it was yesterday, but believe it or not, Thanksgiving is only 10 days away! Here is an easy-to-follow checklist to help you keep your wits about you!
10 Days Before
–    Finalize your menu if you are hosting, and create a food list.
–    Purchase all non-perishable items to avoid shortages just before Thanksgiving.
–    Do an inventory for the following items to ensure you have the equipment you will need on the big day:
o    Roaster Pan
o    Meat thermometer (don't rely on the turkey popper – a digital thermometer is much more accurate and will ensure your turkey doesn't dry out!)
o    Gravy Boat
o    Place Settings for all Guests
o    Tablecloth, napkins, etc.
o    Centerpiece
o    Silverware
o    Drinkware

7 Days Before
–    Do a liquor store run and stock up on any wine, beer or spirits you wish to serve.
–    Iron table linens.
5 Days Before
–    Make any dough or turkey stock you may be using for your recipes. You'll have enough cooking to do later in the week!
–    Prepare any make-ahead foods and freeze if possible – things like cranberry sauce and soup are easy to make ahead and can be simply warmed up on Turkey Day.
–    Set your dining room table today – you'll thank yourself next week!
3 Days Before
–    If you are using a frozen turkey, you will want to transfer it to the refrigerator today.  Nothing is worse than forgetting to thaw your turkey beforehand!
–    Stock the bar – refrigerate any wine or beer you are serving and set out any liquor along with seltzer water, soda, garnishes and glasses in an area where guests can easily access to goodies.
2 Days Before
–    Time for a final grocery run to stock up on all perishable goods – helpful hint – early morning and late night will lessen the crowds and lines you have to deal with.
–    Bake any breads/desserts you can beforehand.
The Day Before
–    Prepare all side dishes and casseroles (do not bake yet) and place in the refrigerator.
–    Place any frozen soup or dough into refrigerator to thaw.
–    Verify your guest's arrival times, and give directions to your home.
–    Place your turkey in brine if applicable.
–    Pick up your centerpiece if you aren't making one at home.
Thanksgiving Day
–    Work your timetable backwards. For example a 15 lb. turkey will need approximately one to two hours to prepare and stuff, three-and-a-half hours to cook and an hour to settle and carve. That means you should plan on starting no later than 11:30 a.m. for a 5:00 p.m. dinner.
–    Cooking tip for a juicy turkey – use a digital meat thermometer to track your turkey's progress by placing it in the THICKEST part of the breast. When the meat reaches 155 degrees, remove and let set for 15-30 minutes before carving. The turkey will continue to cook after you remove it from the oven. Allowing the bird to set will let it come to the recommended 160-165 degrees without OVERcooking.
–    Try to relax and enjoy – remember that the day is about enjoying your friends and family and for giving thanks!
Have an amazing Thanksgiving! Learn more about our new homes in Pennsylvania at www.sahomebuilder.com.