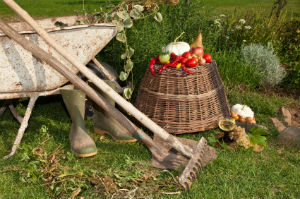 As cooler temps descend and crisp air settles in around new homes in Pennsylvania, it is tempting to forget about the garden and retreat indoors for a hot cup of coffee.  But those with the most beautiful landscaping and gardens know that fall is a critical time to tackle garden projects to ensure beautiful blooms in the spring.
For those of you living in most of Pennsylvania and West Virginia, take the next week or two to follow the forthcoming advice and reap the rewards this spring.
1.    Know your USDA Plant Hardiness Zone – doing so will ensure you plant the right bushes and bulbs at the right time. Those living in Pennsylvania and West Virginia are most likely in either Zone 6 or 7.  Not sure?  Click here and enter your zip code to find out.
2.    Know your frost kill date.  In many areas of PA, this date will set in soon if not already, so reaping the benefits of a fall harvest is already behind some of us already.
3.    Bury deep – carrots, for example, can survive the first frost and typically take 45-60 days to mature.  Bury them deep enough and you can still enjoy them into November.
Here's a list of the most popular items to plant in the fall in Zones 6 & 7:
1.    Garlic – simply plant the clove deep in the ground and be sure to cover with enough mulch.  This June, you will have plenty of garlic to keep you cooking all summer long – yum!
2.    Berry plants – That's right!  There's still time to plant those blueberries, raspberries and strawberries now so you can enjoy a great treat next Summer.
3.    Perennials – There is no better time than now to plant tulips, daffodils and other perennials that are sure to brighten up your landscape this spring.
And for those of you dreading losing all of those great summer herbs at first frost, take the time to transplant things like mint, chives, oregano and more to pots and create an indoor herb garden.
For more tips on fall gardening for new homes in PA and WV, click here.  To learn about our new homes, visit S&A Homes on the web.