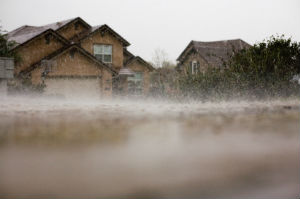 It's all we saw in the headlines this morning – Hurricane Sandy has morphed into a super-sized mega storm 1,000 miles wide. Anyone from Atlanta to Maine and as far west as Chicago will be impacted by this monster of a storm.
For new homes in Pennsylvania and West Virginia, the forecast is to receive several inches of rain (Some may see more than a foot of rain!) in addition to rising rivers, windy conditions and power outages. At this point, we hope most of your preparations are finished, but there are some things you can do now while the storm sets in.
1.    Fill gallon size Ziploc bags full of water and place them in your freezer now. Doing so will help the rest of your food stay frozen for up to 72 hours in the event of a power outage. An empty freezer will thaw quickly.
2.    Have your CAR charger ready to go. Your cell phone may be your only connection to the outside world. Losing power in your home means the car is your last resort for charging that phone.
3.    Didn't have time to buy water? Fill up empty pots, jugs and pitchers now while your water is still fresh and set it aside in case you need it later.
4.    If you have an opportunity to get to an ATM to get cash, do so now. If a widespread power outage occurs, businesses may take several days or weeks to get back online.   Having cash may be your only way to buy goods in the coming days after the storm subsides.
5.    If you haven't already done so, move patio furniture, grills and any loose items like kid's toys and bicycles into your garage or basement.
6.    A NOAA weather radio with extra batteries is the best way to stay on top of the storm and keep abreast of any changing conditions.
7.    If you live in a low-lying or flood prone area, move your valuables from the first floor to second floor. Keep important documents like passports, insurance papers and wills in a plastic bag and have them ready to grab in the event you are forced to leave your home.
8.    Take pictures of valuables. If your home or goods are damaged by the storm, having a picture inventory of your goods helps make the insurance claims process easier down the road.
We hope the above precautions aren't necessary during this storm, but history has shown that being prepared saves lives, protects property and makes life much easier when the storm exits.  For more information about home readiness and general maintenance, please visit S&A Homes on the web.