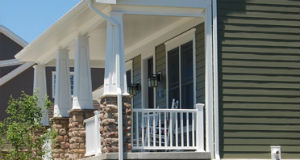 Pittsburgh.  It is a city with an eclectic cast.  Narrow townhomes, modern loft condominiums and sprawling brick mini-mansions are just some of the players in the area's real estate scene.  Despite the many different personalities that may compete for a homebuyer's attention, just about all pale in comparison to the product offering of one of the area's most innovative communities of new homes in Pennsylvania, Newbury.
The community, situated in the heart of South Hills, is anything but traditional.  S&A Homes is proud to be amongst the community's featured builders and offers buyers nine floor plans to choose from.  And these are no ordinary plans.
First off, every home meets the community's stringent green standards.  Any house built in Newbury must cut energy usage compared to a standard new build by at least 40 percent.  Secondly, all of the plans must fit into the overall community landscape that offers tree-lined streets, large backyards, and fosters a sense of community typically only found in traditional old-school neighborhoods.  Craftsman-style exteriors, dramatic rooflines and covered porches are just a few of the exterior features you will find in our new homes.
But, how about the inside?  Well, let's just say you might have a hard time figuring out what you can't get.  Want a first floor owner's suite?  We have it.  How about an amazing loft that looks down into your gourmet kitchen?  Yup, we have that too.  Our floor plans offer many details that most builders tend to overlook like drop zones, oversized mudrooms and walk-in closets.
Add in the benefit of Newbury Market which will offer a grocery store, high-end retailers, a main street and community events accessible via walking trails from the community, and there isn't much question that Newbury is quite possibly Pittsburgh's best new home value – in fact, S&A homes are offered from the low $300,000s.
To view our Newbury collection of homes, click here.  For more information regarding the overall community design, click here. Also, go to S&A Homes on the web.