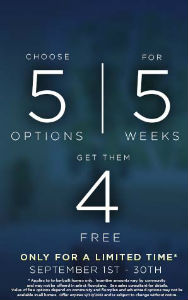 Ever walk through a Pennsylvania new home model and wish you could live in such a mini-palace? Of course, we all do. But the costs to upgrade flooring and add in the luxuries can sometimes check our dreams into reality. That's not to say you don't get a beautiful home to start with. With an S&A Home, everything from energy efficient designs to upgraded HVAC and often times hardwood flooring and more are already included in each home.  
It's the little details like elegant shadowboxing, upgraded chair rail in the formal rooms or a huge 12×18 deck that truly transform a house into a home. Most people want these things but sometimes can't afford them.
Well, not this month. During the September, S&A Homes is offering purchasers five options for FREE. The best part is that you get to choose the options. Pick from items like upgraded hardwood flooring, decking, molding or more. Add them into your home without adding a dime to the cost!
Not only is this instant equity for your home, but it should definitely eliminate the need to do anything after move-in. Simply add to your heart's desire, and relish in the thought that you didn't have to pay anything. For more information, please visit S&A Homes on the web or chat with one of our online sales consultants today!