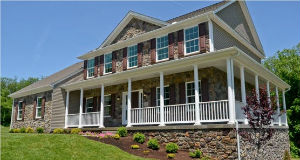 Whether you live in State College or the Pittsburgh area, chances are we have a quick delivery Pennsylvania new home available for you. This weekend, both areas are hosting open house events in select communities. The homes are amongst our most popular plans in our most popular communities, so they surely won't be available much longer!
This Saturday and Sunday, we are opening up two of our most upgraded homes in the Woods of Sewickley community, located just outside of Pittsburgh. The first home, an Amesbury, also happens to be a model home. One lucky buyer will inherit just about every upgrade imaginable. Granite countertops, a completely upgraded gourmet kitchen with morning room and a walk out basement are just some of the features of this incredible home. The other, a Winterberry, is also fully upgraded with a finished basement, upgraded cabinetry, gourmet kitchen and a half acre beautiful home site. Both homes will be open from noon to 5 p.m. this Saturday and Sunday. For more information or directions, please call us at 412-741-3657 or visit the Woods of Sewickley on the web.
If you live in State College or Bellefonte, we are opening two homes this Sunday from 1 to 3 p.m. The first is a Hawthorne located in our popular Fieldstone community that offers sweeping views of Mt. Nittany, a Craftsman style exterior, 9' ceilings, granite countertops and is located just steps from the Mt. Nittany Elementary and Middle School. In Bellefonte, we will have our brand new Woodbridge ranch home open for tour. This quick delivery home is offered at just $209,900 and features a 12×12 deck, 9' ceilings and maple cabinetry in our popular Steeplechase community, just minutes from I-99. For more information regarding our State College and Bellefonte open houses, please call us at 814-231-8560 or 814-355-2325.
For more details on all of our quick delivery S&A homes, visit us on the web!