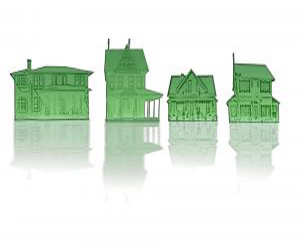 At S&A Homes, we don't like to celebrate Earth Day just once a year. Instead, we look for every opportunity to promote sustainability and educate buyers about our energy efficient WV and PA new homes. From our collaboration with the Best Practices Research Alliance to construct the first net-zero energy Lab Home to building our E-Home for buyers just like you every day, we strive to do our part in promoting energy efficient construction and protecting the environment. Now, we are excited to announce that we received a 2012 ENERGY STAR Leadership in Housing Award for our hard work!
This year, the EPA is celebrating the 20th anniversary of the ENERGY STAR program. For the past 20 years, the ENERGY STAR program has helped millions of Americans and countless businesses save energy and money while protecting the environment. Last year alone, more than 127,000 ENERGY STAR certified homes were constructed and Americans saved almost $400 million on their utility bills. For more information about the ENERGY STAR program and the Leadership in Housing Award, visit the website.
If you want to join the millions of Americans who are saving money on their utility bills for their PA and WV new homes, then give us a call. Our energy efficient and eco-friendly E-Home uses cutting technology and building practices to go above and beyond what it takes to become an ENERGY STAR certified home. In addition to all the features you'll find in an ENERGY STAR certified home such as tightly sealed ductwork, high-performance HVAC and R 410-A Refrigerant, you'll find 90 percent CFL lighting, engineered floor joists, 2×6 construction, low VOC paints and finishes, MERV 10 air filters and ultra low-e glass windows.
For more information about S&A Homes and our E-Home, visit our website.