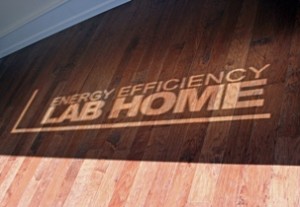 A few months back, we blogged about the grand opening of our net-zero energy lab home in Cobblestone Estates, located in Ohio Township, PA just outside of Pittsburgh. And although we were excited to have built the northeast's very first net-zero energy home, only time would reveal some of the lessons learned and how we can apply those lessons when building Pennsylvania green homes.
Last week, Professional Builder Magazine profiled the lab home and outlined some of the key ingredients that go into maximizing energy efficiency without making such technologies out of reach for potential home buyers. After all, the goal of the lab home is to assess energy efficiencies and learn how to make such homes mainstream and affordable for all people in the future.
For those of you who take interest in knowing how Pennsylvania energy efficient homes of the future will be built, you will take great pleasure in this article, as it provides a great deal of detail regarding the construction process of a home that creates as much energy as it consumes.
Here are just some of the highlights when it comes to best practices.
Builders should design with production in mind by utilizing off the shelf products as much as possible.
Staggered stud design minimizes energy loss through studs and allows for easier wiring.
Verify that materials are readily available to ship to avoid costly delays.
Constant communication is the key to success. Ensuring that every partner on the project, including all subcontractors, is on the same page will increase efficiency and minimize mistakes.
Choose partners that are willing to embrace change and who actively want to learn.
To read the entire article, visit the Professional Builder website. To learn more about our commitment to energy efficiency, please visit the S&A Homes website.