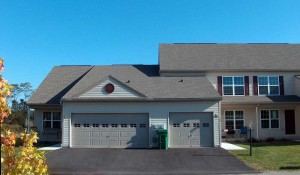 Amidst the bustling backdrop of historic Gettysburg is a community like no other in the area. Just 5 minutes from the downtown area is Cedarfield, a low-maintenance living community of carriage homes. With the obvious benefit of low prices starting in the $150's, those coming from the Maryland area will be happy to know that their tax dollars can stay in their pocket up in Pennsylvania too. Residents have no shortgage of recreation – golf courses, Gettysburg shopping and historic battlefields play host to festivals throughout the summer. All of these things are just a few short miles from our Cedarfield community.
Today, from 11 a.m.-4 p.m., you will have an opportunity to tour some of our select Designer's Choice homes and enjoy refreshments and beverages with your potential future neighbors! The homes feature first-floor owner's suites, two-car garages, open kitchens and spacious bedrooms and range in price from the $150's to the $170's.
Visit the S&A Homes website for directions or contact Kristen Yohn at 717-830-0971.