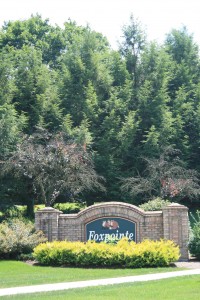 Those who were looking to brave yet another rainy weekend to stake their lot in S&A Homes' Foxpointe community of Pennsylvania new homes, located in State College, PA, were rewarded with first choice on some premium home sites located in one of the area's most popular communities. The Stake Your Claim event was held this past Sunday and resulted in a number of reservations for the premium home sites.
What made this particular event so special is the fact that the lots released are the final 20 home sites that exist in Foxpointe. The home sites back up to Agricultural Open Space and feature estate size lots that are perfect for buyers interested in building Pennsylvania energy efficient homes. Those who weren't quite brave enough to battle the rain for this event are still in luck though! Home sites still remain, even those that back to open space!
Foxpointe is popular with State College home buyers for a number of reasons. In addition to Foxpointe's central location just off of Route 26 and Science Park Road, the community also features more than one park, volleyball courts, picnic areas, and bike paths. All of this, combined with a 5-minute commute to Penn State and Downtown State College make Foxpointe one of State College's most ideal places to live.
For more information on how you can reserve a lot before Foxpointe sells out, please contact Matt Halloran at 814-231-8560 or visit the S&A Homes website.