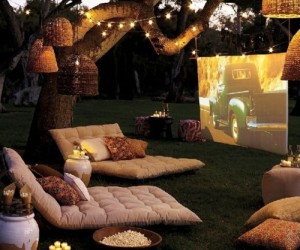 At least we can credit the recent heat wave (can we call it that?) for reminding us that yes… Summer is actually right around the corner! Instead of building an arc to rescue our pets and loved ones from the non-stop rain, we can all dust off the patio furniture for another summer of fun.
Indeed, there is nothing better than escaping to your own backyard oasis after being cooped up in the house for months. You will be happy to know that there is no need to sell your first-born to get that outdoor Pottery Barn look. Instead, let these 5 simple ideas help you transform the backyard of your WV and PA new homes into a true outdoor living room.
Ornamental Grasses – With seeds starting as low as $1 and potted plants starting as low as $5, these fast-growing puppies can get up to 6' tall and quickly form an exotic, privacy fence for any deck or patio.
Unstained Furniture – Consider picking up some super-chic, super-cheap pieces at your local "naked furniture store." With a little bit of outdoor stain or paint you can create that Adirondack look for a whole lot less. Fun paint colors and a few funky pillows will give you a unique look for a lot less than a designer set.
Lighting – Everyone knows ambient lighting is important inside the home – why do we forget the outdoors? Let's look to those 5-star beach resorts for some cool tips. Tiki lights, hanging lanterns and holiday lights are all great ways to illuminate your backyard and make you the envy of the neighborhood.
A Fire pit – They may seem cliché, but the fact is, they are relatively inexpensive (as low as $50) and create a focal point for both kids and adults. They provide endless fun and extend the life of your backyard way beyond the daylight hours. Just don't forget the marshmallows and chocolate bars to complete the experience!
Recycle – Going green doesn't just happen inside of your PA energy efficient homes; it canhappen in your outdoor oasis as well. Instead of throwing those old bottles and cans into the recycling bin each week, bring them back to life. Whether you use coffee cans as a planter for your flowers, turn an old planter into a drink cooler or plant your herbs in an old tomato can, the possibilities are endless!
For more inspiration, please visit any of our decorated models in PA and WV – you are bound to be inspired by the innovative designer tricks used throughout the homes. For more information on S&A Homes, please visit our website.