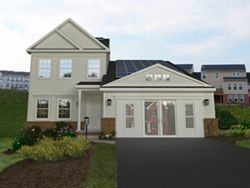 Nestled inside the trendy Ohio Township, Pa. community, Cobblestone Estates, sits a beautiful Craftsman style house. Located just outside of Downtown Pittsburgh, the house nicely complements the other homes in the neighborhood. In fact, at a first glance it may not even appear different. It isn't until you catch a glimpse of the solar panels on the home's roof that you begin to wonder about its place within the community.
It's the Best Practices Research Alliance (BPRA) net-zero energy Lab Home built by S&A Homes in partnership with IBACOS. Designed to serve as a life-sized laboratory for the next three years, the four bedroom home is expected to pave the way toward eliminating homeowners' energy bills. The home, which is responsible for providing critical feedback on zero–energy best practices will be instrumental in helping home builders everywhere evolve to be able to offer the ultimate in energy efficiency to home purchasers.
In the spirit of the upcoming St. Paddy's Day, Pittsburgh area Realtors can show their "green" spirit by visiting the Lab Home Tour we are hosting this Tuesday, March 15th from 10 a.m. to 2 p.m. Not only will you gain insight into all of the cool features built into this home with a hands on tour with Kevin Brozyna (IBACOS Project Manager of the Lab Home), but you will have a chance to experience even more "green" throughout the day.
Tuesday's event will be packed with a "green" menu, great "green" giveaways and even $1,500 BAC Bonuses that are ONLY being offered on our two Cobblestone Quick Delivery homes. Don't worry – you'll have a chance to tour those homes at the event too.
While you wait to tour this revolutionary home, why not check out the S&A E-Home? Although it's not a net-zero home, the E-Home can help you save monthly on monthly energy bills with ENERGY STAR™ features that include 2×6 exterior construction, low-e windows, 90 percent CFL lighting, high performance HVAC systems and recycled materials.