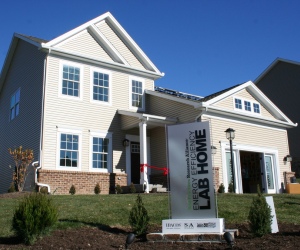 Imagine what your life would be like if you didn't have to pay a monthly gas or light bill. It would probably mean having a lot of extra spending cash; especially during those hot summer and cold winter months. How can this be possible? Well, that's exactly what S&A Homes is trying to find out with its Lab Home; the nation's first net-zero energy home. And, their work is not going unnoticed. Recently, S&A's Lab Home won Best Green/Energy Efficient Housing under $500,000 by the Builders Association of Metropolitan Pittsburgh.
Located in S&A Homes' Cobblestone community, the Lab Home features the latest green technology including a horizontal loop ground source heat pump, 100 percent LED and CFL lighting set on image sensors and 2×8 exterior walls with staggered 2×4 construction and R-40 insulation. All of the energy-saving technologies will be closely monitored over the next two years. The knowledge generated from the Lab Home will be used to help implement unknown technologies in all new home construction at an affordable price.
Now, you have the opportunity to be a part of this exciting new venture. The lab home is currently for sale and priced at $399,900. During the two year observation period, the owner of the Lab Home will lease it back to S&A Homes. At the end of the monitoring period, you can move in to your new home and experience life without a yearly energy bill!
S&A Homes' Cobblestone community is the perfect location for such a cutting edge home. The neighborhood features E-Homes "Next Generation in High Performance Homes," a comfort home guarantee, 10 year warranty, 2×6 exterior walls and poured foundation walls. In addition to these energy efficient homes, residents enjoy the conveniences of a pool, clubhouse and a location just 15 minutes outside of downtown Pittsburgh.
For more information about the Lab Home, visit the S&A Homes website or contact Stephanie McMillen or Debbie Lendo Finke at 412-364-2626 .