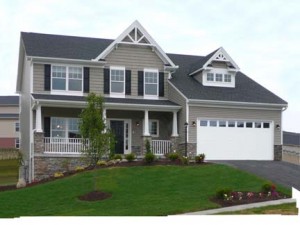 Are you renting and a little nervous to take the plunge into home ownership for the first time?  What's holding you back?  Sure, there's more responsibility, but that's not necessarily a bad thing.  Trust us, there is a lot to look forward to when you can kick your rental to the curb!
First, you get all the traditional perks of owning a home. You know… the ones you've heard time and again about tax benefits, equity and security. However, there are several intangible benefits that you may or may not have thought of.
Consider Fido's needs.  When you own a home, you can have any type of pet that you'd like and a yard for your furry friend to roam in.  No worries about hefty security deposits or ridiculous weight requirements!
Owning a home is a decorator's dream – As a homeowner, you will get to fine tune the home right down to the perfect paint colors and window treatments.  Not only do most apartment facilities frown upon such decorating, but they can impose some serious fines if you don't have time to return the apartment to its original (and somewhat bland) state.
Garages!  Most apartment dwellers don't realize how difficult life can be until they own a home with a garage.  How many of you are storing your bicycle on your outdoor balcony?  How much time do you spend sweeping the snow off your car, or worse yet, moving it off the street during a typical winter snow?
Pride of ownership –  You won't even mind cutting the grass because it's your grass. You're free to invite the whole family for a backyard barbeque or start that garden you've always dreamed of.   But, perhaps nothing is better than walking through the front door of your own home for the very first time and realizing that your hard work is paying off.
If you're ready to feel the pride of purchasing your first home, S&A Homes can help. We build ENERGY STAR™ qualified new homes throughout Pennsylvania and West Virginia, and our Sales Consultants are ready. Our family-friendly and affordable communities can accommodate any lifestyle. For more information, visit the S&A Homes website.