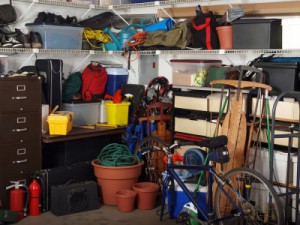 Operation Organize Simplify is ready to tackle the space that rarely sees middle ground. It's either a clean, carefully organized room with every spare tool and nail in its place or it's, in a word, not.
And when the garage is a mess, other messes seem to get bigger. Need to fix the something fast? If only you could find the right screwdriver, that might be possible. Ready to hang the holiday lights? First you have to pull out half of boxes in the garage to reach the lights, the ladder, the hammer and the hooks. Anticipating that Santa may bring a bike, a scooter and a four-wheeler that will need a permanent home? It looks like you'll need to find a spot in the bedroom.
For many homebuyers, the garage is an afterthought to home organization. It's only after most of the boxes are unpacked that they realize they need well-planned storage space in the garage, not just an empty corner. And as you live in your home longer and collect even more holiday decorations, outdoor toys and power tools, you're likely to scramble for even more storage space.
If you're searching for extra room in your current garage, you might start by looking up. Home stores, like Lowe's and Home Depot, carry overhead systems that allow you to suspend secure shelving from your ceiling, taking advantage of otherwise unusable space. If you choose a 4' x 5' unit and drop it about four feet from the ceiling, you could store up to nine plastic tubs of decorations, off-season clothes or other items that are used only occasionally. Large hooks screwed into the ceiling joist create a safe place to suspend bicycles or other outdoor toys. And sturdy wall shelves, especially when placed high and out of the way, can become home to bulky items you want to keep accessible.
Before you start organizing your garage, stop by the S&A Homes Facebook fan page. If you "like" us, we will donate $1 to the Salvation Army. After all, while we're worrying about having enough room for our stuff, others lack the things they need. It only takes a moment to help. The garage can wait that long.
Happy organizing!