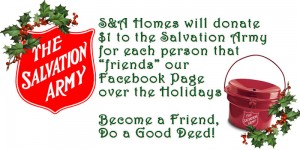 You can donate to the Salvation Army just by visiting the S&A Homes Facebook page. Isn't that easier than braving the cold temperatures, dodging through crowds of shoppers and digging in your pocket for coins to drop in a red kettle? Visit our page and "like" it, and we'll donate $1 to the charity. While you are visiting our Facebook page, please consider making an additional donation directly to the cause on the Salvation Army tab.
Already a Facebook fan of S&A Homes? Then let's take this thing viral! We encourage you to invite your friends to join the cause. Just copy and paste the message below:
S&A Homes of Pennsylvania will donate $1 to the Salvation Army for every new fan on their Facebook http://www.facebook.com/sahomes page now through Christmas. It will take just a few seconds and is such an easy way to give! "Everyone deserves a second chance. Not to mention a first."
Just think…a few moments of your time could yield hundreds of dollars for the Salvation Army, where they're all about "Doing the Most Good."
We at S&A Homes thank you for helping us help others and for allowing us to serve you. Whether you are a homeowner, a home buyer, a friend or a passer-by to our blog, please visit often. You're always welcome here!