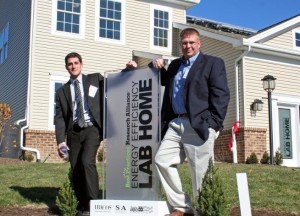 The pomp and circumstance that took place on November 11th at the ribbon-cutting ceremony of the nation's first net-zero energy lab home was an appropriate way to celebrate the accomplishments of both S&A Homes and IBACOS during 2010.  The two companies have worked closely over the course of this past year to build a real-life 'research project', so to speak, that will continue to push the envelope to develop affordable, cutting-edge technologies for new home builders for years to come.
The home features a multitude of different energy-saving technologies, each of which will be closely monitored over the next two years, thanks to on-site computer-based testing that will not only simulate the 'typical' energy consumption of today's modern family, but more importantly, use that data to see what works and what doesn't.
What does this mean for you and me?  It means that the information collected from this home will be used to help implement relatively unknown (or unused) technologies into all new homes at an affordable price.  After all, we have to be honest with ourselves…what good is achieving the ultimate in energy efficiency if it costs and arm and a leg to get it?  Doesn't it make more sense to reduce one's footprint without having to go bankrupt to do so?
Such is the goal of this lab home – to help every American build a new home that not only looks great and feels great – but also reduces one's energy impact to save money and conserve resources for future generations.
Chris Schoonmaker, Vice President of Sales at S&A Homes,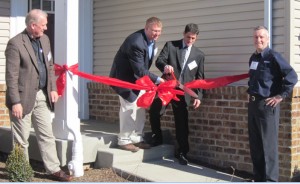 along with Jill Allen, Vice President at Meritage Homes and Kevin Brosna, Project Manager for the lab home, each spoke to the success of the endeavor and how it will create valuable information to be used by home builders around the nation.  Mr. Schoonmaker emphasized the fact that the lab home is representative of S&A Homes' commitment to energy conservation overall, as is evidenced through their E-Home program, which has already helped S&A Homeowners achieve an average energy savings of $2,000 a year compared to a homeowner of an equivalent 10-Year old home.
Click here to view pictures from the lab home ribbon-cutting ceremony, or visit us on the web for more information regarding our E-Home program.