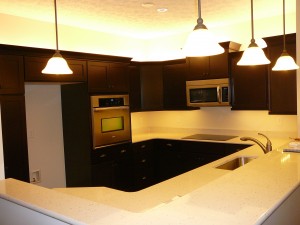 Last Tuesday, builders from around the country braved the windy, wet weather for a sneak peak at the nation's first net-zero energy home.  Located in Ohio Township, the home, built by S&A Homes, boasts some of today's newest home technologies and will serve as an ongoing research project for IBACOS, the Pittsburgh-based think tank that is dedicated to helping homebuilders develop quality, high-performance homes.
Employees from S&A Homes, IBACOS, the Department of Energy and builders from every corner of the nation toured the inside of the lab home to get a hands-on demonstration of the systems and technologies the home encapsulates.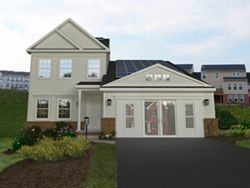 Among the most interesting are:
• 2×8 exterior walls that feature staggered 2×4 construction with R-40 insulation for superior comfort and energy efficiency.
• 100% LED & CFL lighting are set on image sensors to minimize usage, conserve energy and cut back on utility bills.
• Horizontal Loop Ground Source Heat Pump System – Unlike a traditional geothermal that requires expensive wells, this geothermal system is a fraction of the cost and sits a few feet below the home, within the home's footprint.  Since the home is equipped with both a horizontal loop and conventional "well" system, years of analyzing both will evaluate effectiveness and provide a cost-benefit analysis.
The official ribbon-cutting ceremony will be held in November and will mark the beginning of a two-year simulation of a typical family of four and their energy consumption and home usage habits.  The simulation period will allow IBACOS to evaluate multiple systems, building techniques & materials to determine which are most efficient, and use that knowledge to bring cost-effective technologies to the building industry.
For more information on the energy-efficient technologies that S&A Homes incorporates into each home they build today, please visit S&A Homes on the web.