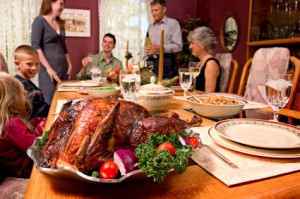 Happy Thanksgiving! Here's wishing you a holiday filled with your favorite people and your favorite foods. Whether you like to spend the day watching the parades and football, napping, planning your Black Friday shopping or some combination of it all, we hope your Thanksgiving Day is everything you're hoping for and more.
For the team at S&A Homes, every day revolves around the concept of "home." Our days are spent building them, organizing them, designing them to be more livable, creating just the right environment for our buyers. It makes us stop and ask the question, "What does home mean to you?" Is it more about people or more about place? Is it where you play a game of football in the yard? Or where you eat the Thanksgiving turkey? We'd love to hear your thoughts on what your "home" is this holiday season.
Meanwhile, as you're expressing your thanks this week, we at S&A Homes want you to feel appreciated, too. Maybe you've bought a home from us in the past, are planning to buy one from us in the future or just take a moment every now and then to read our blog. Either way, we are grateful for you. Thank you for being part of the S&A Homes family!