October 2010 ushers in the largest annual showcase of residential new home communities in the Pittsburgh region at the 2010 Festival of Homes.  This weekend, October 9th & 10th, potential home purchasers will have a chance to tour 45 new home communities to experience the innovative technologies, designs and home building trends that are on display.
Two S&A Homes neighborhoods, Cobblestone & Rolling Hill Farm, are on the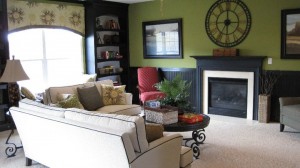 tour, which spans the entire Pittsburgh metropolitan area.  Cobblestone, which is located in Ohio Township, features the popular Winterberry model, an award-winning floor plan that highlights innovative organizational features such as an oversized first floor mudroom with built in cubby holes for book bags, muddy shoes and more.  The kitchen is the heart of the home and features green-certified kitchen cabinetry by Century Cabinets and incorporates special touches like built-in drop zones and charging station areas.
Cobblestone is also home to the nation's first Net-Zero Energy Home, which will be open to the public for the first time ever this weekend.  The home, built by S&A Homes with assistance from Pittsburgh-based IBACOS, is one that utilizes renewable energy sources and the latest technologies to produce as much energy as it consumes, creating a "net zero" energy home.  This exclusive sneak peek at the home of tomorrow, gives festival goers a rare, 'behind-the-scenes' look at some of the home building industry's most cutting edge technology.
On the other side of Pittsburgh, attendees will be treated to an extravaganza of a different sort at Rolling Hill Farm.  The community is conveniently situated just off of Route 51, making commuting a snap, and yet retains panoramic views in a country-like setting, making Rolling Hill Farm the best vantage point for the spectacular fall foliage that is sure to be on display this weekend.  Featuring the Hawthorne model, this community is all about family friendly features.  From the large home site sizes to interior features like second-floor laundry, spacious bedrooms and an open first floor, Rolling Hill Farm offers families affordable, quality homes.
Additionally, every home in both communities is an E-Home, an energy-efficient, eco-friendly and healthier home that builds thousands of dollars in savings into every corner of the home.