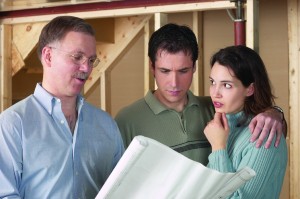 Driving through the mountains of Pennsylvania and West Virginia over the last two weeks has felt more like taking in a painted landscape, thanks to the brilliant autumn colors that seem to glow against the blue sky.  It isn't uncommon to daydream about having your own dramatic backdrop for your new home in lieu of the more traditional neighborhood that most new homes are built in.
But to most, the thought of purchasing a piece of ground and then taking the steps to build on that land seems daunting and overwhelming.  After all, where do you start?  Do you have blueprints drafted?  Do you hire an inspector to look at your ground?  Who is going to walk you through that process?
More than 30 years of working with our customers to build on their own piece of land has taught us a few things about what works and what doesn't work.  Here are a few tips for any of you thinking about before you build on your lot in Pennsylvania:
Go with a builder that can give you a quote with guaranteed pricing.  That's right!  After all, estimates that may or may not shift by 20 or 30% are NOT going to give you peace of mind about sticking to your budget.
A reputable builder should be willing to conduct a thorough lot review with you to come up accurate pricing and estimate of work required FREE OF CHARGE.  Beware of builders that want to charge you for the same service.
Choose a home builder that has a specific process for building on your home site and that guides you through the process.  The right builder should have an expert that oversees the entire process and guides you through from beginning to end to alleviate your stress and save you time.
Know the Warranties!  As a home buyer, you don't want to worry about what happens if something goes wrong with your home.  Choose a builder that backs their homes with a warranty AND a service program.  At S&A Homes, every home is backed by a 1, 2 & 10-Year Limited Warranty and every home owner meets with a Home Care Technician 60 days and 1 year after moving in.  Additionally, a home care department is available in each of our areas to answer questions and service our homeowner's needs any time in between.
Choose a builder that only works with licensed, reputable contractors.  S&A will only provide bids from licensed, "tried and true" contractors to ensure that your home is built to our stringent standards of quality at the best possible value.
Imagine, you can get all of this from S&A Homes in addition to the fact that every home built is an E-Home, meaning it is energy-efficient, eco-friendly and healthier.  And, with more than 60 floor plans to choose from and customize, there is no reason to put off your dream of building on your own piece of ground.  For more information on building on your own land, please contact one of S&A Homes offices.