When the USDA announced in June that it was no longer extending loans to first-time homebuyers, the grumblings from S&A Sales Consultants and homebuyers alike could be heard throughout the states of Pennsylvania and West Virginia.   After all, USDA financing is the only program that allows first time buyers to purchase a home with NO MONEY DOWN.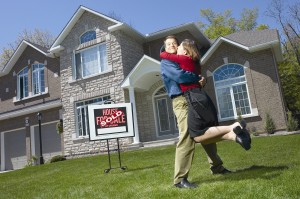 So, imagine the exclamations of delight when we learned that USDA Financing is back and better than ever!  There are several benefits to purchasers, but the biggest bang for a first-time buyer is their ability to take advantage of the best home pricing and the lowest interest rates in recorded history. Here are just some of the main features of the USDA program:
• 100% Financing allowed, requiring no money out of pocket for down payment.
• Unlike FHA Financing, no monthly Mortgage Insurance Premiums apply.
• Gift money can be used for closing costs.
• Closing Costs can be rolled into purchase price if appraisal values support doing so and/or seller's contributions are allowable up to 6%.
• Interest Rates are competitive with Conventional & FHA Rates.
To show the power of this program, take our Bennett Run community in York, PA as an example.
• Brookfield Townhome Price: $129,900
• Bennett Run Current Promotion: $5,000 Sellers Contribution to Closing Costs, with the additional $1,702 financed.
• Total Monthly PITI for 30 Year Fixed at 4.5% for $131,602 = $930
• Total Money out of Pocket = $0
There are a few catches though.  First time buyers are only eligible for the program in pre-determined communities around York, Chambersburg, Gettysburg, Waynesboro, Bellefonte, Altoona, Huntingdon, Greensburg, and Martinsburg, WV.   Additionally, income limits for 1-4 person households usually fall around $74,050 in most areas we sell in.
To find out more regarding eligibility, please visit the USDA Property Eligibility page.  Please contact an S&A Sales Consultant or visit us on the web for more information.