This day and age,  it seems like everyone is jumping on the energy efficiency bandwagon.  The label is not reserved for just cars and homes anymore.  TVs, lightbulbs, gas grills – you name it; if it uses energy, then marketers want to brand it 'energy efficient.'
As a consumer, it can be difficult to navigate this new realm – how do you know a brand's claims are for real?  Well, when it comes to energy efficient new homes, there is no better way than the use of thermal imaging.
What is thermal imaging?  Essentially, it is a picture taken of the home that identifies any air leaks. The majority of heating inefficiencies in homes result from air leaks from improperly sealed its windows, ductwork and entry points for mechanicals.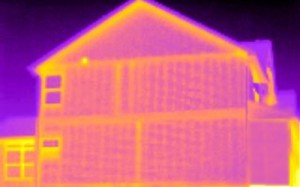 The two images shown were taken by an independent third party energy-rater in the same neighborhood at the same time.  The first image to the left, which is made up of mostly pinks and purples, is the S&A E-Home.  While some heat is lost through the studs, the majority of the heat is contained within the home as indicated by the shades of pink.
The second image, made up of mostly yellow tones, is a competitor's new home built at the same time.  The yellow tones show that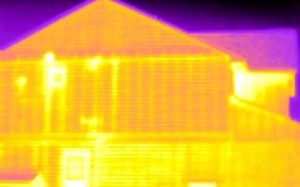 there are many air leaks and inefficiencies, resulting in high utility bills compared to the S&A E-Home.  Even though this home is brand new, the homeowner will encounter significantly more expense and discomfort.
The result?  The purchaser of an S&A E-Home can expect to save thousands of dollars and live in a much more comfortable home.