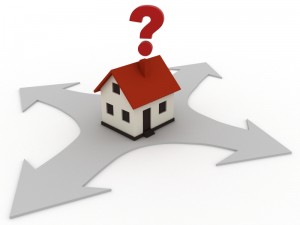 The never ending stream of conflicting news reports on the state of housing today has left many potential home purchasers sitting on the fence, trying to make heads or tails of the real estate market.  The news headlines say it all.  Two headlines that appeared next to one another on the Yahoo Finance News Page on August 31st read 'Home Prices Rise 4.4% in June' and 'Home Prices Probably Cooled, Consumer Sentiment Languished'.  An oxymoron of sorts, this is just one example of why some potential homebuyers are afraid to make a move.
However, it is Time's recent news story, 'Rethinking Home Ownership', published on September 6th that has really stirred the pot.  The article claims that home ownership is dramatically overrated and gives examples like the fact that the average homeowner ONLY receives an additional $542 on their tax refund compared to renters (never mind the hundreds and thousands of dollars that go towards one's principal investment each month, since that is not discussed in the article).  The article also claims that home expenses are ongoing and expensive to homeowners.
The opinions outlined in this article are tough for a company like S&A Homes to swallow.  Our energy efficient homes save our average homeowner hundreds to thousands of dollars a year in utility savings alone because of our ability to far surpass even ENERGY STAR™ standards.  Compare that to the average utility bill for a renter that has no say in the type of energy system, insulation or lighting they pay for.
Our average purchaser is able to sock away $400 out of the gates towards their principal investment and that amount goes up every month over the life of the loan.  For many, this is a savings vehicle that wouldn't exist without the ability to mortgage.  Plus, the areas we sell in have actually seen INCREASES in both jobs and home equity.  We're talking about places like Pittsburgh, Carlisle, & State College – not Vegas, Phoenix and Tampa.
Sadly, some are missing a golden opportunity to buy a home at its most affordable point.  Perhaps no article better explains the true benefits to purchasing a home in this market than '10 Reasons to Buy a Home', which appeared in the Wall Street Journal on September 16th.
If you are a fence sitter, then do yourself a favor and look over each side of that fence to make sure you are making an informed purchasing decision.  For more information about S&A Homes, please visit us on the web.