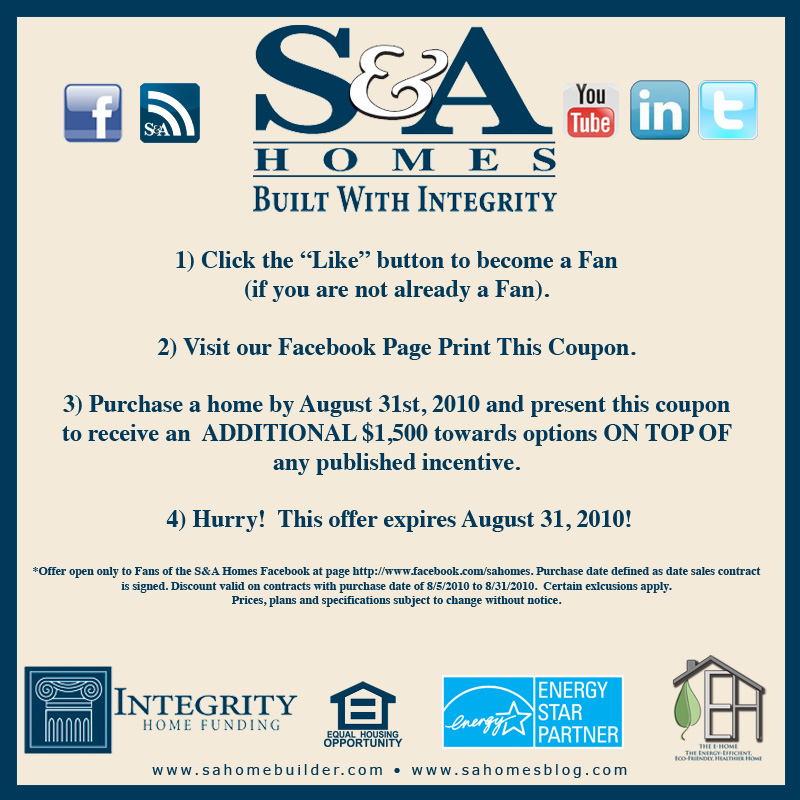 Savings are just a click away for buyers of Central Pennsylvania Builder,
S&A Homes
. Simply take time away from your normal Facebook gaming and networking to 'like' the
S&A Homes Facebook fan page
. Then, purchase your S&A Home between August 1 and 31, 2010, and you will receive an ADDITIONAL $1,500 toward upgrades on top of any advertised incentive.
Of course, you'll want visit the S&A Homes website to explore communities and learn how you can buy a home that is Energy Efficient, Eco-Friendly and Healthier, all while saving you thousands of dollars a year. You'll find beautiful, quality built S&A Homes in more than 60 communities throughout Pennsylvania, West Virginia and Maryland.  We have built more than 15,000 homes in the area and consistently rank in the top 100 builders and maintain an incredible 95% customer referral rating.  We currently build in State College, Altoona, Pittsburgh Metro, Bridgeport, Harrisburg Metro, York Metro, Chambersburg, Martinsburg and Carroll County, MD.
With the lowest interest rates in recorded history, innovative home designs and the best communities in the area, there's only one thing to do:  become one of the 15,000 families that have already made their dreams come true building an S&A Home.  Just imagine the status updates you can post on Facebook then!