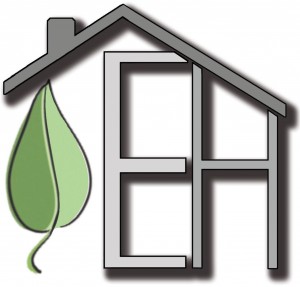 Today's homebuyers who are seeking energy efficient home buying solutions at an affordable price are in luck with E-Home from S&A Homes. The S&A Homes E-Home program is focused on building high performance homes that combine energy efficiency, eco-friendly building materials and indoor air quality solutions, all at the best value in the market.
Each home built by S&A Homes exceeds stringent Energy Star standards set by the EPA (Environmental Protection Agency). By employing a "whole-house" systems approach, S&A Homes ensures that every home delivers thousands of dollars in savings to its homeowners, equivalent to reducing a homeowner's mortgage amount by up to $30,000 over the life of the home. Every home is built with a high-performance HVAC System, Energy-Star Ultra Low-E Glass windows and 90% Compact Fluorescent Lighting (CFL)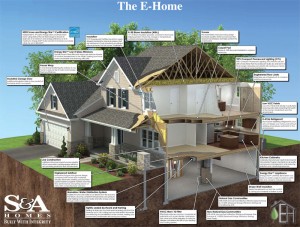 fixtures and is then checked by an independent energy-rater to ensure the builder has tightly sealed all entry and exit points from the home, the main cause of energy loss in today's homes.
Building homes with energy saving features is not new to the company. "For the past 30 years S&A Homes has built over 15,000 homes that are energy efficient, eco friendly, and  healthier," said Chris Schoonmaker, Vice President of Sales at S&A Homes. "The E-Home is an easy and effective way for us to portray what we call a "whole home" approach by offering our customers the highest value in the industry."
S&A Homes focuses on purchasing responsible building materials by selecting materials that both reduce the company's overall waste & carbon footprint without lowering their standards for quality.
The final component to the E-Home is its ability to greatly increase the comfort level in the home, as well as the health of the home's inhabitants. Integrating key components such as low VOC paints, water-proofing materials, and Tyvek house wrap vastly improves indoor air quality while controlling moisture. To further combat indoor air pollutants, each home includes a MERV 10 Air Filter, which is up to 40 times more effective than a typical fiberglass filter at capturing dust, pet dander, and allergens.
But perhaps the most important component to the E-Home is the group of individuals who market and build them. According to Chris Schoonmaker, "Our customers should expect their house to be a high performance home built by high performance people. That is why every home we build is an E-Home."
S&A Homes is a new home builder and Energy Star partner that has delivered more than 15,000 homes and currently operates in more than 70 communities throughout Pennsylvania and West Virginia. Click for more information on the E-Home program.