Hard to Believe Hardwood Event
By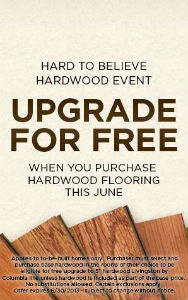 Choosing to build a new home, for many, reflects their desire to make choices. Whether it's deciding to bump out the kitchen, change a floor color or convert a dining room into a playroom, it is much easier to make changes before a home is built than after.  While choices are a great thing, we personally don't believe they always need to come with added expense.
During the month of June, any buyer who purchases an S&A Home will have the opportunity to choose from upgraded 5" wide oak hardwood in a variety of five different color choices from the Livingston by Columbia line. It's more than having choices that makes this promotion special.
Not only can buyers bling out their floors, but they can do it free of cost. If base hardwood is already included in your home, add the upgrade at no cost. If you choose to add more hardwood throughout the home, pay for the base and upgrade for free.
Better yet, this promotion can be used in conjunction with any other advertised community incentive, which means our deals are seriously sizzling during the month of June. For more details, or to talk with an online sales consultant about our promotion, click here.
Leave a Comment