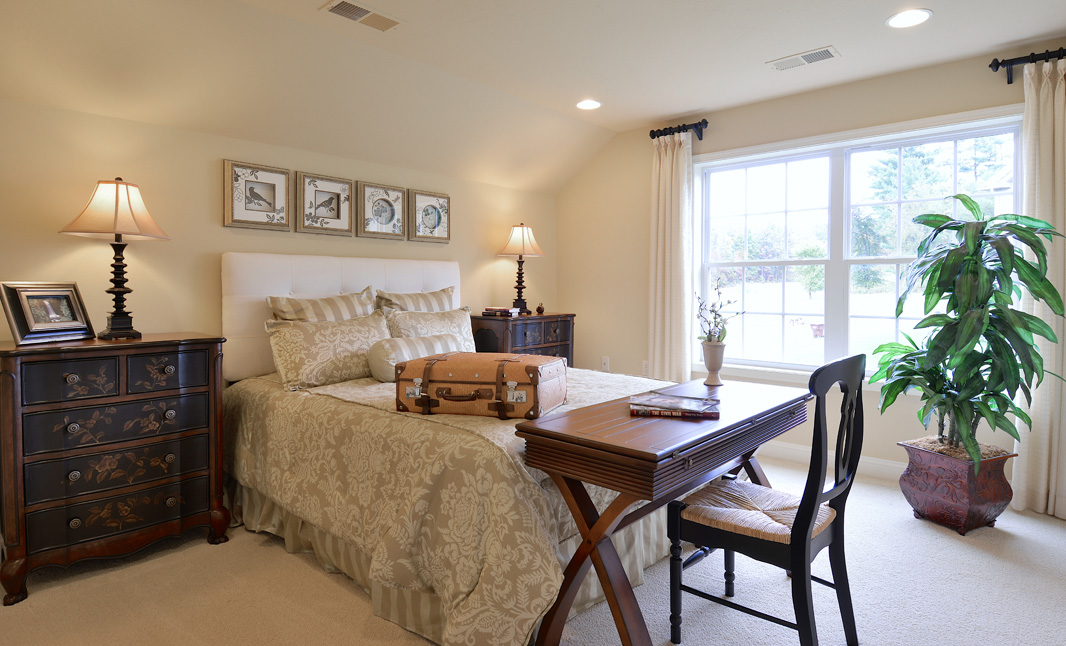 Staying at someone else's home can be a bit unsettling sometimes. Therefore, as a host, it is important to create a guest room your visitors can feel completely at ease in. At S&A Homes, our floor plans are designed with areas that can be easily transformed into inviting guest rooms.
Now that you have a space in place for your overnight guests, here are a few interior design and hosting tips essential for creating a guest room that feels like home:
Set Up a Comfy Bed
Your guests are going to need a good night's rest, so take your time when setting up your guest room bed. Choose a mattress that is firm, yet comfortable and purchase high-quality linens rather than using the spare sheets you already have on hand. If you are purchasing a new bed frame for the guest room, it is a good idea to choose one that isn't too high or too low, so that guests aren't struggling to get in and out of bed.
Offer Closet Space
The chaos of living out of a suitcase is not ideal for most people. Within the guest room, provide your guests with an empty closet or dresser where they can hang up and fold away their clothes during their stay. Your guests will greatly appreciate being able to unpack their belongings and make themselves at home.
Keep Décor Simple
Your home's guest room should feel inviting but not to the point where it feels lived in. A busy room filled with knick-knacks and personal items will only remind your guests that they are in an unfamiliar place. Keep décor to a minimum and the room's overall style neutral. Consider incorporating pieces that double in practicality for your guests such as lamps for lighting or decorative dishes where they can place their keys.
Add Some Fun
While guest room décor should be kept to a minimum, that does not mean you can't liven up the space with fun accent pieces. Start with a neutral color scheme for the space and then play around with some more exciting pieces. Whether it's a bold piece of artwork, a patterned rug, a unique light fixture, or even just some brightly colored throw pillows, these "wild card" décor items are sure to create a guest room that is anything but boring.
Make Room for Luggage
Luggage can be pretty bulky, so make sure your guest room has an area where they can store it without cluttering the rest of the room. Some ideas for luggage areas include a bench, an ottoman or even a foldable luggage rack. Keep these spaces about knee or thigh-high so that guests can lift their heavy luggage onto them with ease.
Offer the Comforts of Home
Be proactive when it comes to your guests and consider the things that would make them feel welcomed home. One strategy is to provide the comforts of home in the form of cozy blankets, extra toiletries, fluffy towels, scented candles or even fresh flowers for their stay. For those looking to go the extra mile, offer your home's WiFi password along with a spare phone charger for their electronic needs.
To learn more about the available home designs and new home communities offered by S&A Homes throughout Central and South-Central Pennsylvania, call 1-855-SAHOME1 or visit www.SAHomeBuilder.com.