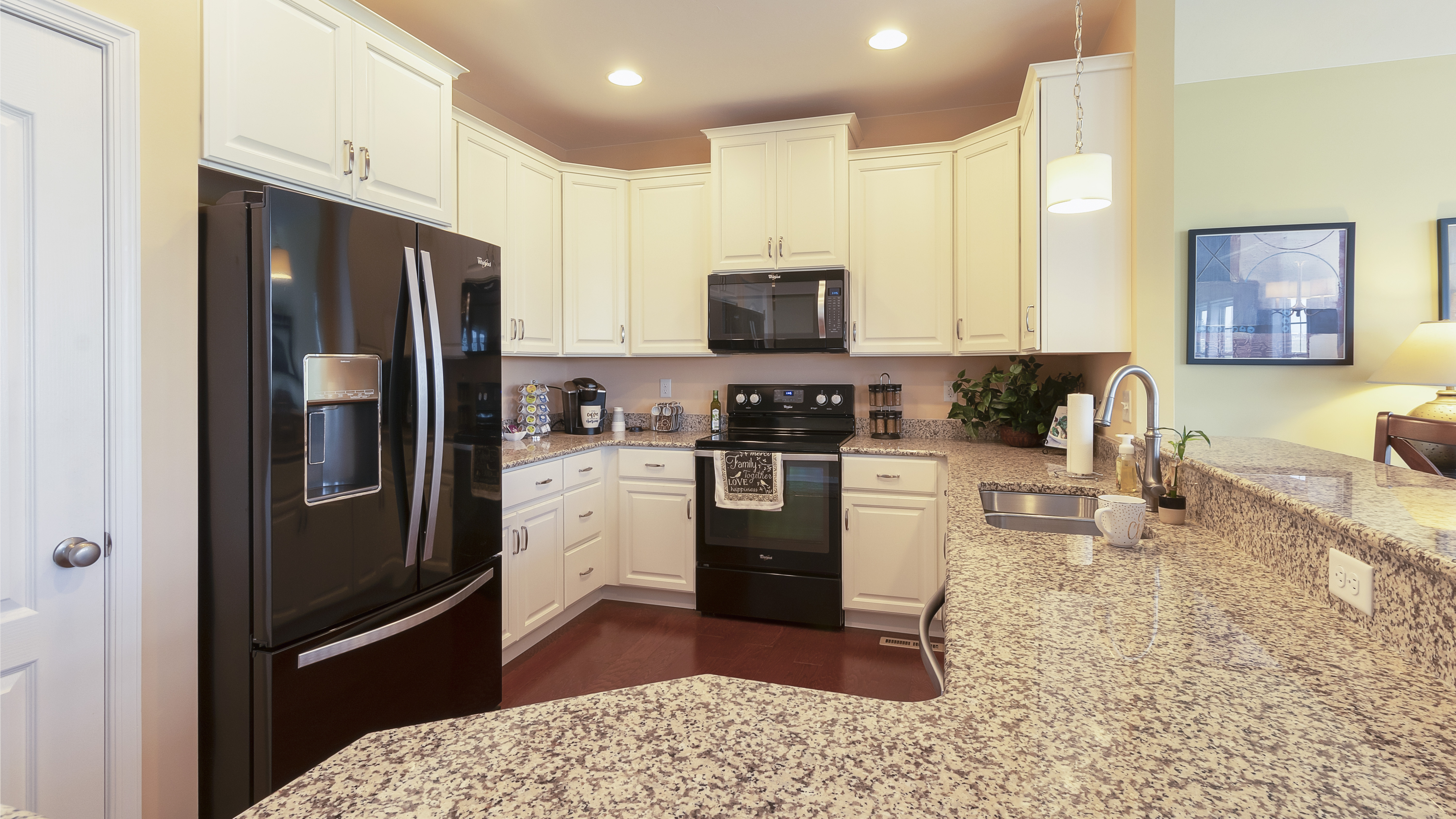 When it comes to kitchen countertops, there are a lot of options on the market. Countertop surfaces have a big impact on the style and function of kitchen spaces. The best option is the one that best fits your kitchen preferences, use and budget.
S&A Homes is proud to offer our homeowners a wide selection of kitchen countertops to choose from. Each S&A homeowner has the opportunity to work with our Design Center to select from several countertop options, along with other home features.
The best countertops for your S&A home include:
Granite
Granite has been a longtime popular choice and must-have kitchen feature for homebuyers. Composed of naturally occurring minerals such as quartz, feldspar and mica, granite countertops offer a unique and luxurious look to any kitchen space. While granite is one of the more expensive countertop options, it certainly makes up for it with its usability. Granite countertops are incredibly strong and durable. They are almost impervious to heat, making them a great material for cooking in the kitchen. When treated with sealers, granite countertops are essentially maintenance-free and add much desired real estate value to the home. The material comes in a large variety of colors and types to fit a wide range of kitchen styles.
Quartz
Quartz is an all-around durable countertop option. Despite quartz being one of the most commonly found minerals, quartz countertops are actually an engineered stone product made up of quartz and other minerals combined with resin. Quartz is available in a huge array of colors, many even designed to mimic marble and other stones. One of the biggest benefits of being man-made is that quartz countertops are strategically designed to have the look and durability of natural stone with none of the maintenance. Unlike granite, quartz has a nonporous surface that is resistant to scratches and stains. The surface also doesn't require any resealing, making it a great maintenance-free choice.
Laminate
Laminate today isn't the same as the old, outdated laminate popularized in the 1980s and 1990s. While older laminate was made from paper and resin, newer laminates are made with more expensive materials like wood and stone. Laminate is a favorite with many homebuyers for its incredible affordability, especially compared to its quartz and granite counterparts. Today, laminate comes in a variety of designs that mimic more expensive materials for a fraction of the price. Due to the materials it's made from, laminate is not heat resistant and can be easily chipped or scratched. However, laminate is incredibly low-maintenance and a great choice for those looking to stay on budget.
To learn more about new home opportunities throughout Central and South-Central Pennsylvania from S&A Homes, call 1-855-SAHOMES1 or visit www.SAHomeBuilder.com.