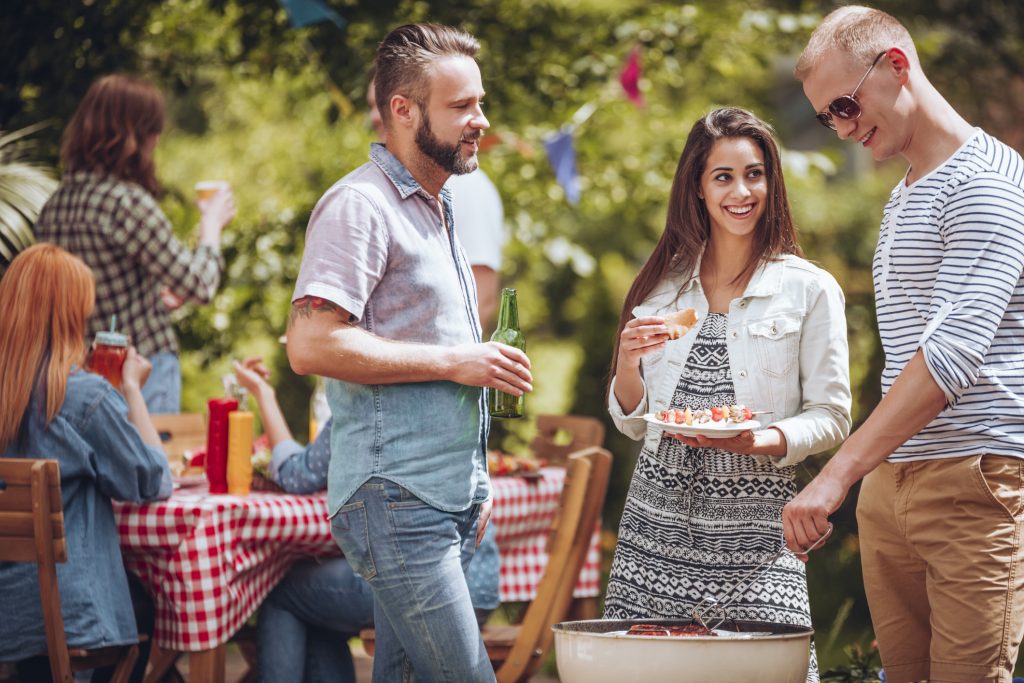 Summer is on the horizon! Traditionally, Memorial Day weekend marks the start of the summer season. It's time to pull out the deck furniture, fire up the grill, and invite some friends and family over for some summer fun. We thought we'd kick off this season with some helpful entertaining tips so you can host some epic summer parties, from casual BBQs to stylish soirees. Keep guests comfortable
Your guests' comfort is paramount. Even the fanciest party will be marred if the guests are not comfortable. Have snacks or appetizers ready for guests to nibble on if the main course isn't ready when they arrive. Use citronella candles or mosquito zappers to keep unwanted pests at bay. Provide sunscreen, extra hats, or bug spray/wipes and shaded areas or fans to beat the heat. These simple gestures will improve how your guests feel.
Serve refreshing drinks
Make serving easier by keeping drinks simple. Sure, you can splurge for a bartender to whip up special drinks all night long, but you don't have to spend a lot of money to keep your guests refreshed. Even the humblest of beverages can be dressed up to impress your guests! Whip up pitchers of lemonade or iced tea and infuse water with fruit, mint, or cucumbers. Premixed cocktails like sangria and margaritas are great options that can also be made ahead of time.
Set up a self-serve bar area where guests can help themselves so you don't have to fuss over mixing drinks all night long. You can put your beverages in fun and pretty pitchers, coolers, or other beverage dispensers to up the wow-factor.
Create conversational zones
It's a known fact: people congregate around food. Keep people from bunching up by spreading the food around. Place trays of food with appetizers on tables near chairs and tables and watch as people start chatting.
Keep the menu simple
The beauty of summer parties is that they don't have to be stiff, catered affairs. Most people prefer to eat light in hot weather so take advantage by preparing a simple menu. Plan dishes that can be made ahead and served cold or buffet style. Burgers, hot dogs and the like are popular choices because they're simple to prepare. Supplement your menu with store bought food items like fruit trays, salads or even desserts.
Make it right with music and light
Just because the sun has set on the day doesn't mean your party has to end. Keep the fun going well into the evening by setting up some ambient lighting. Hang string lights along the fence or even tree branches, set up solar lamps and hurricane lanterns around the yard and LED tealights on the tables to create a warm glow. This will allow guests to linger a little bit longer. Just be mindful of your neighbors and any noise ordinances!
Add to the ambiance by creating a playlist. Choose songs that have a universal appeal like oldies, summer pop music, or even upbeat instrumentals. Just make sure the music is low enough so people can easily hear each other when talking.
Play some games
One of the perks of hosting a summer party is the ability to use your entire backyard! Party games are always a hit with adults and children alike. There are a lot of options for games, from simple kid's games like tag or hide-and-go-seek, to scavenger hunts, cornhole, croquet or jumbo Jenga. Get creative and have fun.
These super simple tips will help you set the stage for the perfect backyard bash so you can enjoy the warm, summer nights with your family and friends!