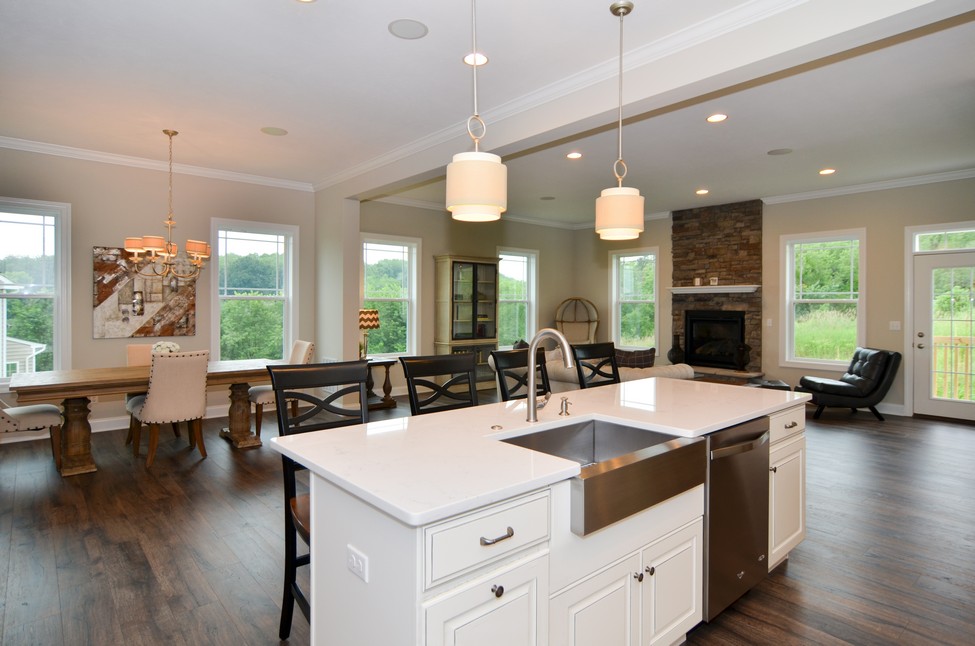 Today's living spaces are becoming more casual with the growing popularity of open floor plans. While these open plans provide an endless array of design opportunities, the openness of these plans can also present some decorating challenges. Here are some tried-and-true design tips that will help you master the open floor plan, and create a livable design you'll love:
Create Defined Zones
Keep your multifunctional space from feeling like a cavern by defining zones for each section. Defining each space, whether it's the kitchen, living, or dining area, can be done through furniture groupings and rugs. Not only do they make a large, open space feel cozier, they also help define each area and guide foot traffic through the room.
Connect with Color and Tones
Use coordinating colors and tones to create a cohesive design throughout the open space. Choose a main color palette to connect the spaces and then choose two or three complementary color accents to use throughout each individual space. This also allows you to further divide the space while still having a cohesive design. You can also use the same metal and wood tones throughout the room to continue the cohesion.
Light it Up
The right lighting can go a long way in establishing specific areas. Use pendant or chandelier lighting over the dining area, sconces and floor lamps in the living area, and recessed ceiling lighting to help guide the flow of the room. Choose similar fixtures that use the same material, color or finish for the additional lighting options. Don't forget to take advantage of the natural light that can fill an open floor plan!
Create Symmetry
A simple strategy to create a balanced look is doubling up your larger furniture pieces like sofas and armchairs.
Make a Wall
If you still crave the look of a traditional closed room, create faux walls through open shelves or console tables. Not only is this a great way to block some of the clutter from one area, it's another way to add some definition to the space.
Open floor plans are perfect for those seeking a flexible and airy space. These design tips will help you create a space that is both comfortable and functional for every member of the family.
S&A Homes offers a variety of open floor plan designs in the most sought-after locations in Central and South Central Pennsylvania. To view our new home communities, or to find information about building on your own land, visit us at SAHomebuilder.com.