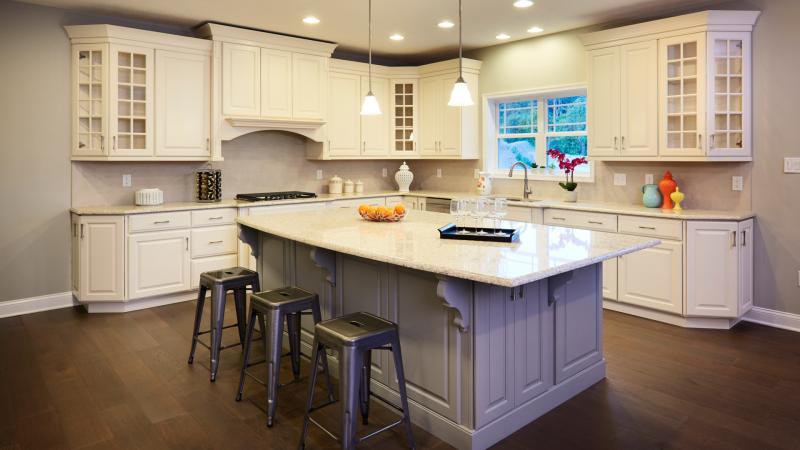 As the heart of your home, the kitchen is one of the most frequently used rooms. Having everything in its proper place makes working in your kitchen, including cooking and cleaning, easier. Use these following tips to create an organized and inspiring kitchen space you're bound to love:
Tip 1: Clear the cabinets
The first step to any reorganization project is to clear everything out. Pull everything out and begin sorting through, donating or tossing what you don't use, duplicates, or items that are missing pieces or broken.
Tip 2: Group like items together
Sort your remaining items into groups based on the purpose or use: cooking, baking, everyday dishes, glassware, holiday or seasonal items and any special occasion pieces. Grouping these items together will make it easier to find when you need them.
Tip 3: Store items based on use
Organize your kitchen in terms of "task zones" (i.e. cooking, baking, prep, food storage, dish storage, cleanup) to help figure out where to store your items. You want to put them close to where you typically use them, like placing your cookware close to the stove. Doing so makes it easier to locate the items you need, when they're needed, and put them back once you're done.
Tip 4: Use clear storage containers
Decant dry foods into clear storage containers to streamline your cabinets (containers can also be used to corral those smaller packets as well), so you're better able to see what you have on hand at a glance. Don't forget to label them!
Tip 5: Use drawer dividers
Banish the cluttered kitchen drawers by using storage inserts to create spots for all your utensils in an orderly way. This is also helpful for the infamous junk drawer, too!
Tip 6: Maintain
This is probably the most important tip: now that your kitchen is in order, it's up to you to continue to maintain things. Take some time each day to keep your kitchen organized and tidy.
You don't need a major overhaul to get control of your kitchen, but investing the necessary time and energy to declutter and organize will be worthwhile once you see how much more efficient you are in the kitchen.