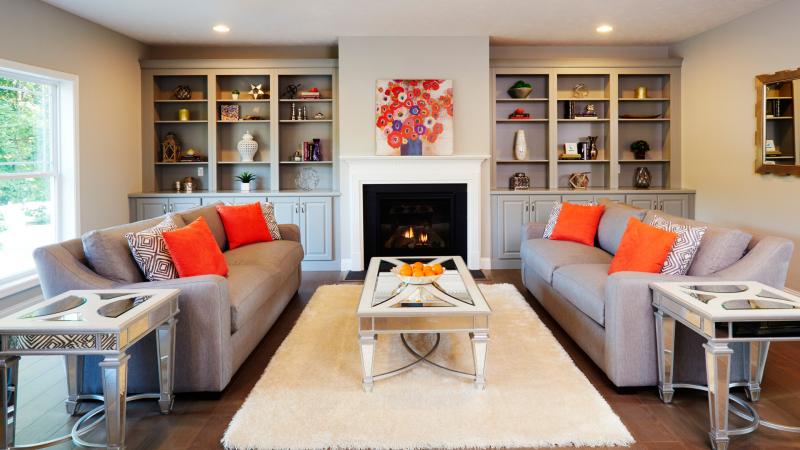 With spring on the horizon, you may be itching to update your family room to welcome the new season. Thankfully, refreshing and updating this space doesn't mean you have to get all new furniture and paint! Even the smallest changes can make the biggest differences. In fact, most of these updates can be done over a weekend!
Here are some thoughtful ways you can easily transform your family room:

1) Assess your space
Before you run to the store to buy all the new spring home accessories, take a moment to figure out why you're feeling so 'blah' about your family room. Does the furniture need to be rearranged? Could you use less furniture? Do you need to update the color scheme? Identifying the issue will give you the focus needed to create a new family room design.
2) Rearrange (or remove) the furniture
Sometimes all that's needed is to change the furniture placement, so try some new arrangements to create a better flow through the room. Simply moving a few key items can be enough to make your entire room look and feel fresh.
And sometimes, all that's needed is to ditch some of the bulky furniture. Consider mounting your television to a wall instead of a media stand to free up space. Or find a new space in your home for the extra ottoman.
3) Change accessories
Introduce new colors or patterns to your room by swapping out a rug or adding new pillows or throw blankets. These small items can add a big impact at minimal cost. You can also update your curtains, changing from heavier winter textiles to lighter materials like chiffon or organza.
4) Add new patterns
Patterned walls have always been a popular design trick, but going that big can be intimidating. Instead, wade into new design trends by thinking small: utilize pillows and throw blankets as the perfect canvas to highlight a current design trend without the large commitment.
5) Add new lighting
Another great way to inject new energy into your family room is by updating your table and floor lamps. This is a great way to fill any voids in corners, add new textures or patterns (through the lampshades), and give your room a new stylistic direction.
Creating a new fresh look doesn't have to be expensive! Hopefully these ideas will give you a good starting point to refresh your family room in time for spring.