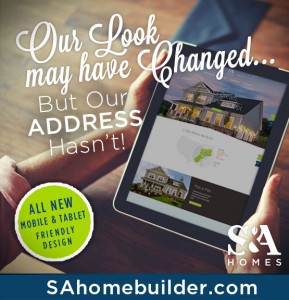 If you haven't yet checked out the brand new www.sahomebuilder.com, it's definitely worth your time to do so. Our newest version of the already popular website is chock full of useful navigation and tools to help assist you in your home search whether you are searching from home or on the road from a mobile device.
The site, which launched late last month features more prominent photo galleries, more user-friendly navigation and the handy My Notebook feature which allows you to save and compare properties in one central location that you can reference later, share with a friend or bring in to your next appointment with a sales consultant to speed up the process.
No doubt users will also enjoy the many mobile friendly features including the ability to chat from a mobile device, get directions to the communities and quickly view model home photo galleries and quick-delivery home information using the convenient short-cut buttons that are available from the home page.
The page definitely redefines the concept of a mobile site by offering state of the art technologies normally reserved for larger websites such as parallax scrolling, lazy elements and responsive design. What this really means is that househunters can now interact with our communities, plans, photos and even our online sales consultants in a highly interactive format like never before.
Why not check it out for yourself and find out what you've been missing out on?