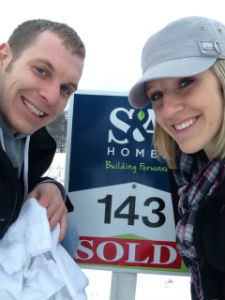 Here at S&A Homes, we are used to seeing happy homeowners. But, it's not every day that one of our customers decides to pop the big question on their recently purchased lot! When Brady proposed to his new fiancé on his just-purchased home site in Rolling Hills Farm (located in West Newton, PA), she responded with a resounding "YES"!
Here is what Brady had to say about his experience with S&A Homes so far:
"We could not be happier with the signing of our new home and engagement! It all started a year ago when we began looking at homes, we would drive to Rolling Hill Farms and admire the houses. We always loved the style of the S&A homes, but we never thought that we would be able to afford a customized home of this caliber. One year later and after trying our hand in previously owned homes, we decided to set up an appointment to see the model home at Rolling Hill Farms and the rest is history.
We were blown away by the quality, energy-efficiency and value that S&A Homes had to offer. Once we signed for the house, we got engaged on our snow covered lot making this moment even more memorable! Sandy has worked with us every step of the way to accommodate our needs and make us feel comfortable with all of our decisions. S&A Homes and Sandy have made home buying a stress free and enjoyable process. We cannot wait for the building process to begin!"
Thanks,
Brady
Brady – we are so glad you and your future wife are having a great experience! From everyone at S&A Homes, Congratulations!
< ![endif]–>