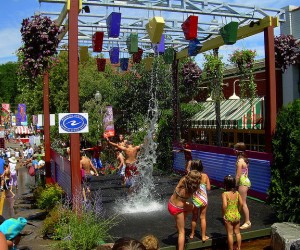 It seems like we spend a lot of time blogging about football here. And yes, Central Pennsylvania's obsession with the game is all that the area seems to get any credit for. But the fact is: there is a lot more to State College than just Penn State football. The area also plays host to a nationally recognized Arts Festival, The Central Pennsylvania Festival of the Arts.
This week kicks off the festivities. With almost 1,000 artists attending from all over the world, this is definitely not your run of the mill street carnival. The festival, which starts this Wednesday, July 13 and runs through Sunday, offers more than the traditional art booths. From Italian Street painting to free jazz concerts to some of the best street food around, we can barely touch the tip of the iceberg here.
The festival marks its 44th year since starting in 1967. Interestingly, the original Arts Fest was not judged and artist's hung their works on the fence outside of Old Main. Over the years, the event has turned into the quintessential summer week for Pennsylvanians and attracts more than 125,000 people over the course of the week.
In addition to the stores and business that stay open this week, we are here to play host to you as well. S&A Homes offers PA new homes in more than 20 neighborhoods throughout the Central region; and just like the artists, we cater to just about every buyer out there. Want a first home? Check out The Landings, located just 2 miles from Downtown State College? How about a second home? In The Village at Penn State, we offer condos, townhomes and single-family State College new homes for those who want to experience State College life more than a few weekends a year. We will be open all weekend long to help you get in the Arts Fest spirit!
For more information on all of the S&A Homes communities, please visit our website.